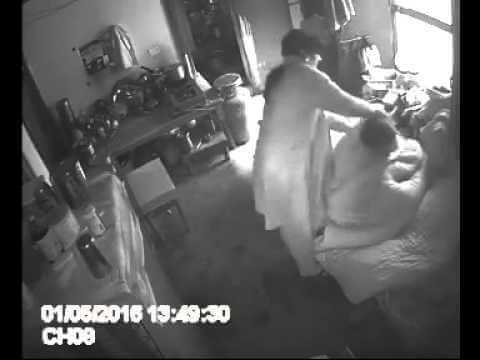 CCTV Footage: Lady Attempting To Kill Her 70-Year-Old Mother-In-Law
Sangeeta Jain has tried several times to kill her 70 years mother-in-law. You can see the video that I'm revealing today. The video captured on 05th January through CCTV which i advised to put hidden in room.
[Help me to save my parents life, A Girl seeking my help for justice]
Video captures cruel woman "Daughter-in-law" Sangeeta Jain W/o- Sandeep Jain, Resident of Nehtaur, Uttar Pradesh attacked her helpless sick mother-in-law. The cruel woman tried to kill her mother in law "Rajrani Jain" with Stone and Rope, she slaps her and then drags her down the bed. Her marriage has been 7 years and the divorce case is going on. She lives in her husband's house forcefully and she is taking advantage of his goodness. 04th January in morning without the usual commotion she took place in the market and went to the police station to lodge a false report and ignoring the fact, Police booked Sandeep Jain, and the woman is disturbing actual police sends her home back. She makes the clothes noose around the neck of her mother-in-law and then hit on the head by a stone severely and had bled. Her cruelty was not over then she tried to give the current of water heating rod. Yet no action was taken by the police because this attack has done by a woman. Sangeeta Jain haunt her husband for false Dowry & Marital Rape cases. Sandeep Jain's sister took my help by raising her question to the Police, Administration, and Society & Government, What safety deserves only "Daughter-in-law" NOT "Mother-in-law"? Strong laws were created for women but some women are misusing the laws. I would urge the Government of India to action against such women. I promise will help you into this cruelty and I also believe Crime has no Gender!!!
Come Along!
Just Subscribe To Our Weekly Newsletter Waves