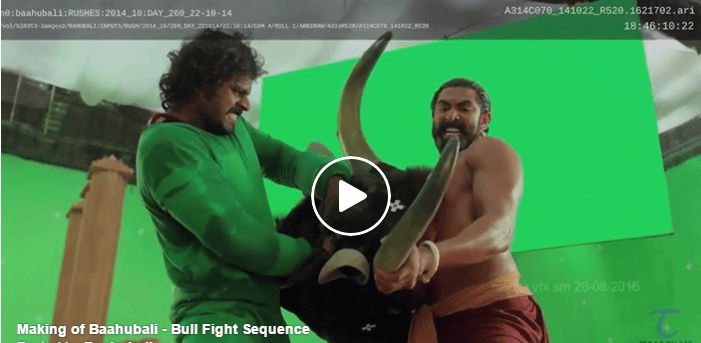 Checkout The Famous Bull Fighting Scene From "Baahubali" Was Shot
S. S. Rajamouli's magnum opus Baahubali turned heads and created milestones, that was evident by its record-shattering numbers that continued to rule for weeks. The actors, the animation, and the graphics had cast a spell that made this movie an extravaganza. And in this video by Baahubali, and executed by the Tau Film team, gives you a glimpse of the Bhallaladeva's bull fight sequence and how it was shot to be converted into perfection.
Have A Look Of Video:
Making of Baahubali - Bull Fight Sequence

Ever wondered how Bhallaladeva fought the bull? With around 5000 VFX shots, up to 90% of Baahubali: The Beginning is comprised of visual effects. Here, we give you an insight into how some of these VFX heavy scenes were actually filmed. Executed by the talented Tau Film team, check out this video of the how Bhallaladeva's bull fight sequence was achieved using green mattes and other props.

Posted by Baahubali on Tuesday, January 5, 2016
Come Along!
Just Subscribe To Our Weekly Newsletter Waves